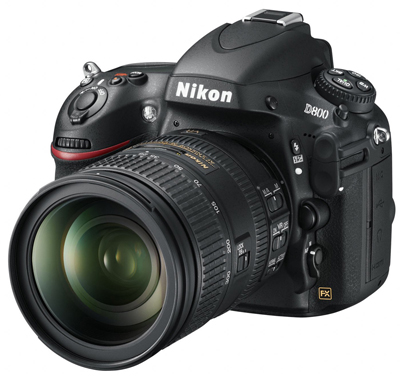 Nikon's D800 has been awarded the prestigious Camera Grand Prix 2012 title and also won the public vote for best camera.
Why selection
Nikon D800, the interchangeable lens type digital SLR cameras equipped with a sensor of the number of pixels 36.3 million effective pixels and become the world's best (*). With high-quality image to realize the image processing engine employs a "EXPEED 3", have also achieved high-speed data processing. In addition to the 51-point AF system equipped with enhanced performance in environments with low-intensity focus, performance to withstand dust and water using the LCD monitor 3.2-inch high-definition optical viewfinder with 100% field of view and, in extreme conditions are equipped with many features, such as.
* In the interchangeable lens type digital SLR cameras equipped with 35mm film image pickup device according to size
Major features
Adoption of a low-pass optical filter to suppress the generation of multi-layer structure, and false color moire image quality of low noise

ISO sensitivity of 100-6400 with a Nikon FX-format CMOS sensor with 36.3 million effective pixel number of the newly developed capture of the subject-as-2EV to limit low brightness pixel RGB sensor

Adoption of the 91K to achieve highly accurate automatic control, such as image sensor cleaning function

AF and exposure knock out the dust and dirt out of the low-pass filter by the frequency of type 4 equipped with a 51-point AF sensor with enhanced capability.

Approximately 100 field of view, can be continuous shooting a 6-second frames / about seconds 0.042 about-release time lag with, the highest shutter unit to clear the release test over and response times of about 200,000 to f8 focus point of 11 points aperture %, the magnesium alloy with the electronic level to detect the inclination of the longitudinal direction left, right, high-definition LCD monitor 3.2-inch 920,000 dot finder optics with enhanced visibility with excellent visibility of about 0.7 times magnification can be a natural representation close to look at the subject a large difference in brightness

Adoption of a double-slot SD · SDHC · SDXC memory card and CF card that corresponds to the body · UDMA7 of drip and dust proof robust adopted is available

HD Video can shoot full HD video imaging of the two use different range of different angle

Built-in HDR function to synthesize a single cut to shoot two different active D-lighting and exposure, in a one-time release of developing and video editing features in RAW-body function
Nikon D800 will be equipped with a sensor of pixels 36.3 million, can be taken with high-resolution images, more to achieve higher image quality in both photography and video shooting still images with a number of advanced features, comparable to the flagship models The comprehensive evaluation and can be used that provide low cost but with a functional high performance to, without having chosen a shooting environment by adopting body robust, award "Camera Grand Prix for 2012 was determined. "